Ready To Get Started?
Our unrivaled service also comes with price matching. We'll match the price on just about any written estimate from a licensed and insured competitor. Our training, experience, and more efficient equipment mean that we can do better work than our competitors, in less time.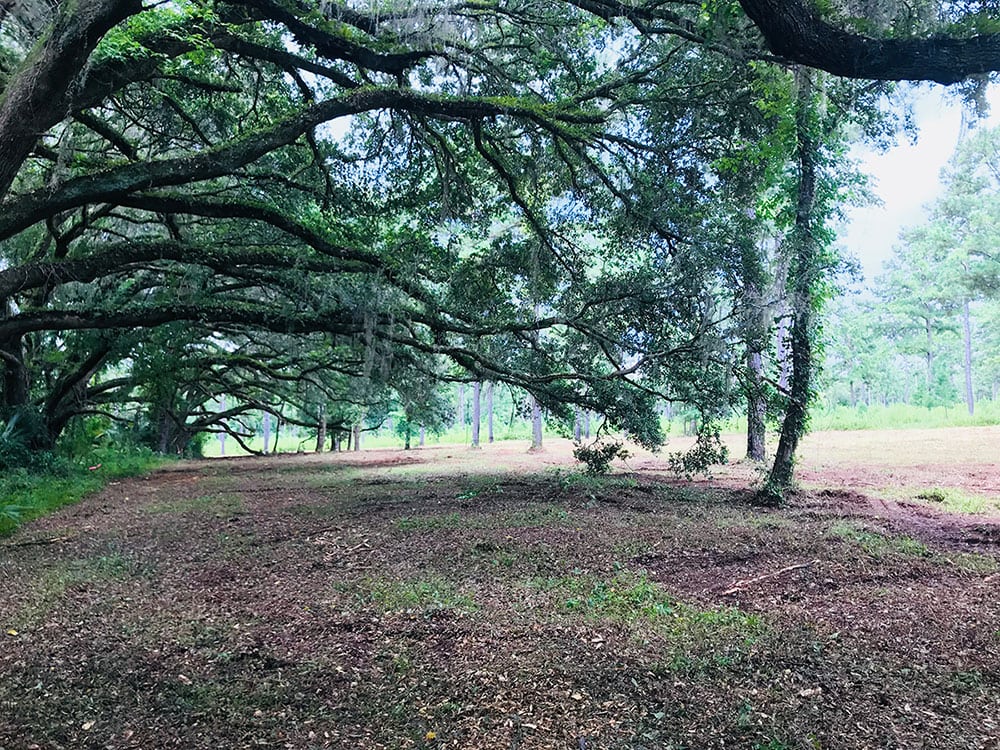 WHY SHOULD I CLEAR MY LAND?
When it comes to large properties and acreages, years can go by without proper maintenance. This may not seem like a problem to many people, but debris, dead plant life, and sprawling overgrowth can cause serious issues on your property. Not only are you at risk for several damaging and expensive problems, but the longer you leave these problems unattended, the more expensive it will be to return your land to its optimal value.
On the other hand, land clearing can revitalize the way your property looks and dramatically increase its value. When considering land clearing or land management services, it's important to keep in mind all of the specific risks and benefits. If you have any questions, the experts at Red Hills Landworks would love to hear from you.
CLEARING LAND MAKES IT MUCH SAFER​
One of the most serious risks with cluttered, overgrown, and uncared for land is fire. The dead trees, thick undergrowth, and incredibly dense plant life make both the start and spread of a fire much more likely. Not only would a fire threaten the surrounding area, creating the potential for loss of life and extreme damage to property, but it would dramatically decrease the value of your land. Income from logging, real estate, hunting, and tourism becomes difficult after a fire has destroyed your property. At a minimum, clearing debris and brush around any structures or buildings on your property is a critical part of any fire safety plan.  
Fire isn't the only hazard caused by overgrown and uncared for land. Dead trees and branches falling at unexpected times can cause serious harm to you or your guests. The dangers of personal harm and expensive law suits aren't worth the risk. This is especially true when considering that land clearing and management isn't only about preventing potential problems, it's also about the numerous benefits.
Clearing Land Makes Your Property Healthier
Invasive plants steal nutrients and water from the trees you want growing on your land. Trees that don't have to fight with weeds, vines, and dense undergrowth grow faster, stronger, and stay healthier. This means that logging rights become more profitable and that your property looks its absolute best.
Just as importantly, overgrown and unattended land breeds diseases and attracts pests that can cause real damage. Dying and rotting wood from fallen trees, old stumps, and old plant life breeds diseases that can infect your healthy trees and spread through your land and onto neighboring properties. This dead wood can also attract termites and similar infestations that can severely damage the long term health, beauty, and profitability of your land. Leaving your land to grow wild can have you facing unexpected risks and expenses.
On the other hand, clearing your land and turning the unwanted debris into wood chips and mulch is great for the health of your property. Not only is mulching a healthy and affordable way to add nutrients to your soil, but it's an environmentally friendly solution to the problems associated with overgrown land.
EXCAVATION
Whatever excavation needs you have, Red Hills Landworks can get the job done for you. We have the experience and equipment to tackle any size project. Our local knowledge means that we understand how to help you accomplish your goals with minimal disturbance to the environment. This knowledge, paired with cutting edge technology, means that we can complete your excavation project quickly and affordably.
We can help with:
Drainage work
Foundations dug out for construction
Sewer line installation
Land clearing
Installation of ponds and water features
Any other excavation work
ROOT RAKING
Sometimes, clearing the vegetation off the land isn't enough for your needs. When you want to use the land for a specific purpose or you want to build on the land, roots from trees and large brush need to be removed from the soil. Our root raking machines will remove roots and large debris from your land while leaving the soil behind so you can move on with your project.
CLEARING FOR GEOTECHNICAL DRILLING
Before construction can begin on your land, detailed plans have to be made. Part of those plans requires understanding what kind of foundation is necessary. This will depend on a host of factors including the soil and the size of the buildings being built. However, while your land is overgrown, necessary geotechnical drilling is difficult to accomplish. Red Hills Landworks can help prepare your land by clearing it safely and quickly.
Our professional and efficient work means that you can get building sooner. Don't risk delays in the construction process. Hire the experts to clear you land today.
RIGHT OF WAY (ROW) CLEARING AND MAINTENANCE
Right of Way clearance is critical, but often overlooked. Lots of problems can be caused by tree and plant growth in areas that need to remain clear. For public utilities and pipelines, tree roots can cause expensive and potentially dangerous damage. Brush growth and tall grasses can also make maintenance and repair attempts difficult and slow. Repair crews would have a hard time locating and working on utilities and pipelines hidden under overgrown vegetation. ROW clearing helps to solve these problems and keeps service costs lower by allowing quick, easy access to important areas.
Red Hills Landworks can work with you to create a schedule that meets your needs and your budget. Our experts understand growth cycles and environmental circumstances that control the frequency needed to maintain open and clear ROW. A regular service schedule keeps your budget safe and predicable.
CLEARING FOR PUBLIC UTILITY MAINTENANCE & CONSTRUCTION
Florida, Georgia, and Alabama offer diverse landscapes that can make utility installation and maintenance difficult. From forests to swamps to wetlands to overgrown fields, each type of terrain requires specialized tools and knowledge. Trust the experts at Red Hills Landworks to understand how to prepare different kinds of land for utility work. Our focus on customer service and reliability mean that you'll be thrilled with our work. Our teams are highly trained and equipped with top quality machinery to prevent breakdowns and delays. Our ability to work around environmental needs means that your property will be respected and well taken care of while we work.